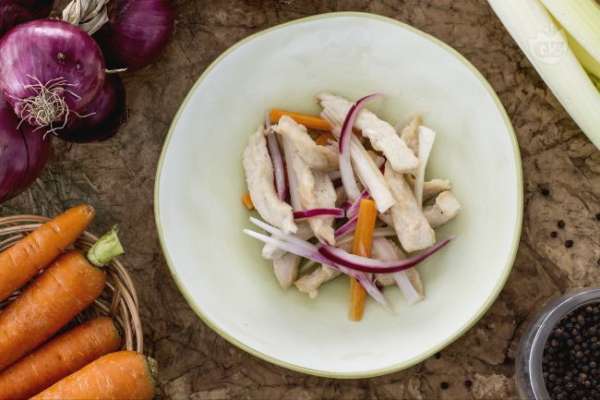 | | |
| --- | --- |
| | |
Slice the chicken into smaller pieces.

Heat a generous amount of vegetable oil in a pan.

Dredge the chicken slices first in the eggs and then in the breadcrumbs and fry until golden brown and crisp.

Cook in batches if necessary to keep from crowding the pan

Transfer the fried chicken to paper towels to drain and salt lightly.

When the chicken has all been cooked, in another pan heat a small amount of olive oil over low heat and sauté the onions with bay leave until transparent. Do not let them brown.

Add the wine and vinegar, a generous amount of sage, a little salt, and a few peppercorns.

Simmer for 1 minute, then remove from the heat

Remove the onion and herb mixture from the marinade with a slotted spoon, reserving the cooking liquid.

In a glass storage container, alternate layers of the onion mixture with layers of the fried chicken until you have used up both.

Pour the reserved cooking liquid over the top.

Allow the chicken to cool completely, then seal tightly with a lid or cover securely with plastic wrap and refrigerate.