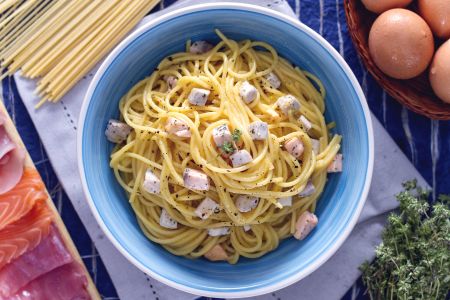 Bring a large pot of salted water to boil and cook the pasta. Meanwhile, in a large pan, brown the garlic in a small amount of oil.

Remove and discard the garlic and add the fresh tuna. Cook over high heat just until seared, about 1 minute, then remove from the heat.

Add the smoked tuna to the pan. In a medium bowl, beat the egg yolks with the Parmesan and a generous amount of minced parsley, salt, and pepper.

When the pasta is cooked al dente, reserve about 1/4 cup cooking water, then drain the pasta in a colander. Add the pasta to the pan with the tuna and cook over medium heat , tossing to combine,

Remove from the heat and pour the egg mixture over the pasta and enough cooking water to moisten, Toss to combine; the pasta should be coated with the sauce.