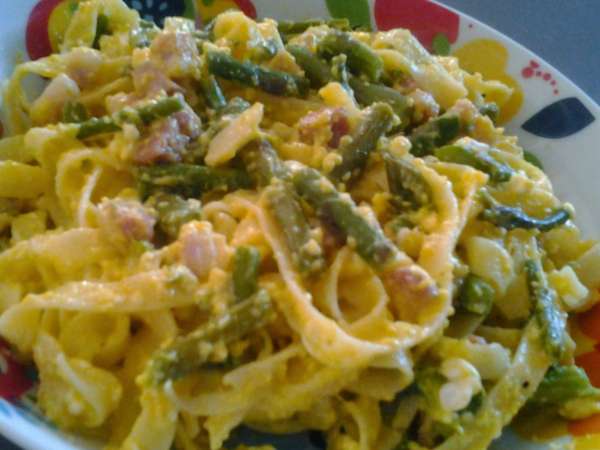 Bring a large pot of salted water to a boil for the pasta.

Trim the asparagus, keeping the tips and about 2 minutes of the stalks. (Reserve the rest for soup or another use .) If the asparagus you are using is particularly thick, cut the tips in half the long way.

In a large pan, sauté the pancetta and garlic in a small amount of oil until the garlic begin to brown.

Add the asparagus tips and just enough water to come about halfway up the asparagus.

Cook over medium-low heat, covered, until the asparagus is tender, about 3 minutes.

Add the pasta to the cooking water. (Egg pasta cooks quickly.)

In a small bowl, beat the egg, the yolk, the grated Parmesan, and the ricotta until thoroughly combined and creamy.

When the asparagus is cooked, drain it in a colander and add it to the pan with asparagus.

Toss to continue. Remove the pan from the heat and pour the egg and ricotta mixture over the pasta.

Toss to continue, season with pepper, and serve immediately.