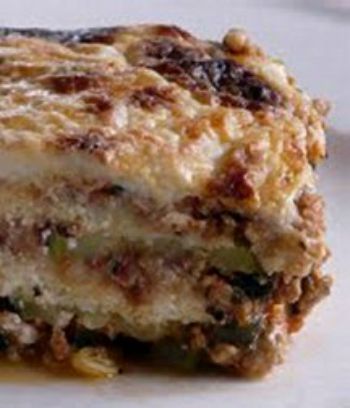 Preheat the oven to 350°F (180°). Bring a small pot of salted water to a boil and cook the potato cubes until soft. Meanwhile, in another small pot, combine the sweet Gorgonzola with the cream and enough milk to create a sauce and cook over low heat, whisking frequently, until the cheese has melted.

Spread a little of the Gorgonzola sauce on the bottom of the pan. Cover with a single layer of noodles.

Top with about 1/4 of the remaining Gorgonzola sauce, 1/4 of the potatoes, and 1/4 of the grated Parmesan. Repeat three more layers in the same order, from the bottom up: noodles, Gorgonzola sauce, potatoes, Parmesan.

Sprinkle the top with walnuts and the cubes of sharp Gorgonzola. Dot with a generous amount of butter and bake until the noodles are soft and the top is browned and crusty, about 20 minutes. Allow to settle for about 10 minutes before serving.