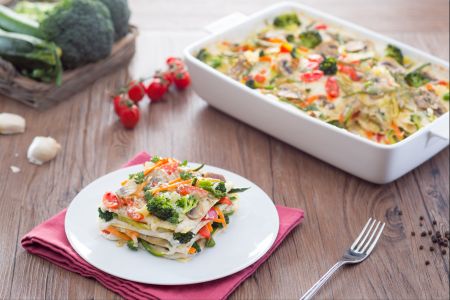 | | |
| --- | --- |
| | |
Preheat the oven to 350° F (180° C). In a large pan, brown the leeks in a small amount of oil. Add the bell pepper and the eggplant and cook over medium heat, stirring occasionally, for 10 minutes.

Add the zucchini and some salt and cook, covered, until the vegetable are soft but not falling apart. In a small bowl, whisk together the robiola, grated Parmesan, and milk.

Season with salt. The results should be smooth and creamy; adjust with more milk or cheese if necessary. Spreada little of the robiola mixture on the bottom of a baking dish.

Build layers in this order in a baking dish from the bottom up: pasta, cheese mixture, vegetables, mozzarella, grated Parmesan, and pesto. Repeat until you have used up the ingredients. (The number of layers will depend on the size of your baking dish.)

Bake in the preheated oven until the noodles are soft and the top is browned, about 20 minutes. Allow to settle for about 10 minutes before serving.