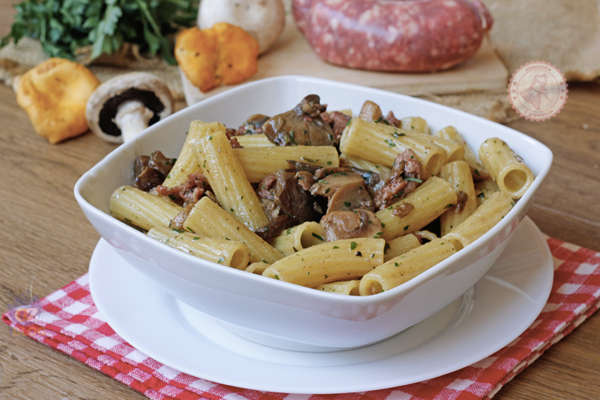 | | |
| --- | --- |
| | |
Place dried mushrooms in a bowl and add water to cover.

Set aside to soak until soft. When the mushrooms are soft, in a large pan, sauté the minced onion in a small amount of oil until transparent.

Gently remove the mushrooms from the bowl using your hands (don't pour them out into a strainer, as there may be some grit left in the bottom of the bowl), squeeze them as dry as possible, and add them to the pan with the onion.

Continue cooking, stirring frequently, until the onion has browned.

Remove the casing from the sausage and crumble the filling into the pan with your hands.

Cook until the sausage loses it raw red color, then add the tomato puree. Lower the heat to a simmer.

Season with salt and pepper and cook, covered until the sauce has reduced and the sausage is cooked through, about 20 minutes.

Meanwhile, bring a large pot of salted water to a boil and cook the pasta. When the pasta is ready, drain it in a colander and transfer it to a serving bowl.

Pour the sausage mixture over it and toss to combine. Top with grated Parmesan and serve immediately.