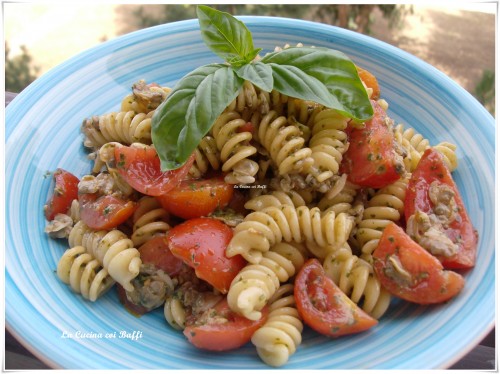 | | |
| --- | --- |
| | |
In a medium pan, saute the garlic in a small amount of oil, tilting the pan to keep the garlic submerged. Add the clams. Add the white wine and allow most of the liquid to evaporate, about 1 minute.

Place sieve in a bowl and drain the clams, collecting any liquid in the bowl. Add the liquid to a large pot, along with enough salted water to cook the pasta, and bring to a boil.

Add the penne to the pot of boiling water, and while they are cooking, place the clams in a serving bowl with the tomatoes and the pesto.

Stir to combine. When the pasta is cooked drain it in a colander, add it to the serving bowl, and toss to combine.

Drizzle with a little olive oil, tear basil leaves over the pasta, and season with pepper. Serve at room temperature or chilled.