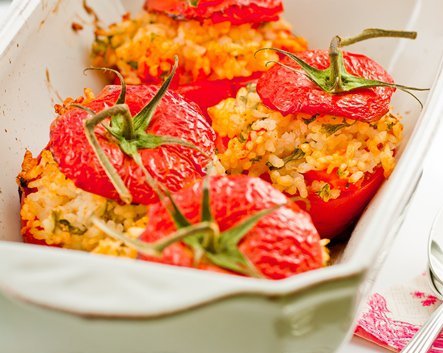 Preheat the oven to 350°F (180° C). Cut the tops off the tomatoes, saving the pulp in a bowl. Salt the tomatoes. process the tomatoes pulp in a blender, transfer to a bowl, and mix it with the rice and garlic and season with parsley, basil, salt, and pepper.

Drizzle with a little olive oil. Set the tomato pulp mixture aside to rest for about 30 minutes, then remove and discard the garlic.

Fill the tomatoes part way with the tomato pulp mixture, but leave a little room at the top for the rice to expand. (You probably won't use all the rice mixture.) Place the tomatoes on a parchment-lined jelly-roll pan. In a bowl, toss the potatoes with a little olive oil, minced rosemary, and salt.

Scatter the potatoes around the tomatoes then spoon any remaining rice and tomato mixture over the potatoes. Bake until the rice is tender, about 30 minutes. If the tomatoes look dry and the rice isn't cooked, drizzle with a little water, cover the pan with aluminium foil, and return to the oven.

When the rice is cooked, remove the stuffed tomatoes from the oven and allow to cool to room temperature before serving.