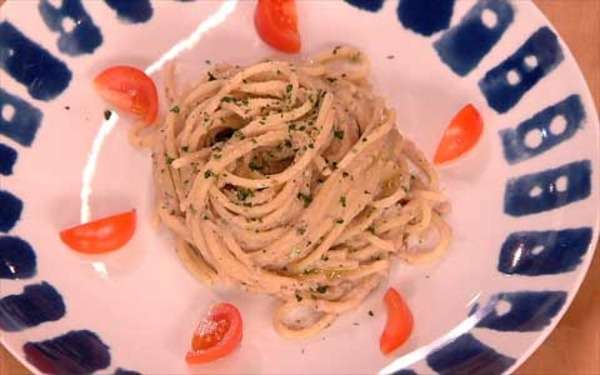 Bring a large pot of salted water to a boil and cook the spaghetti. Meanwhile, in a food processor fitted with the metal blade or a blender, combine the tuna, anchovies, and capers and process.

Add about 1/4 cup of the pasta cooking water and some parsley and process again to make a smooth, creamy sauce.

In a large pan, heat some olive oil and sauté thegarlic and the chile pepper, if using. Add the anchovy and caper sauce and whisk to combine.

Cook over low heat until reduced slightly.

When the pasta is cooked, reserve some pasta cooking liquid, drain the pasta in a colander, transfer it to the pan with the sauce, and place the pan over medium-high heat.

Toss the pasta briskly with the sauce, and add 1 to 2 tablespoons of the reserved cooking liquid if the pan looks dry.

Transfer to a serving dish. Top with the quartered tomatoes, drizzle with a little oil, and serve immediately.