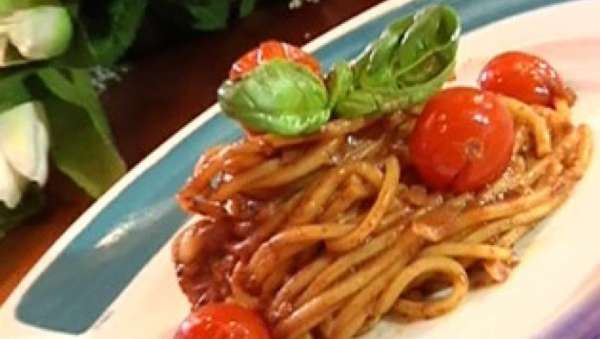 Bring a large pot of salted water to boil and cook the pasta.

In a large pan over medium heat, sauté the onion in a small amount of oil.

Add the olive paste, tomatoes, a pinch of chile pepper flakes (more if you like it spicy), and a small amount of salt, (olive paste is quite salty.)

When the pasta is cooked, reserve about 1 cup cooking water and drain the pasta in a colander.

Add a little cooking water to the pan to moisten the sauce-you probably won't need more than 1/4 cup.

Transfer the pasta to the pan and toss over medium heat until the pasta is coated with the sauce.

Tear basil leaves over the pasta and serve immediately.