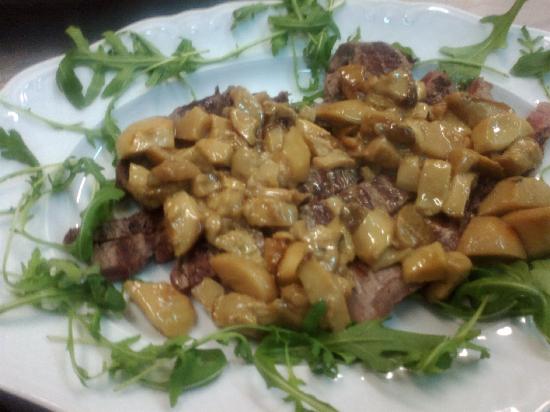 Heat a small amount of oil in a pan and sauté the garlic, then add the mushrooms.

Season with salt and thyme leaves and cook, covered, over low heat until the mushrooms are soft, about 10 minutes.

Heat a cast-iron skillet, and when it's very hot, brush it with small amount of oil and scatter on some coarse salt.

Cook the steak in the hot skillet for about 4 minutes on each side. (To get a nice brown crust turn the steak only once an otherwise do not move it.).

Remove the steak from the heat, wrap it in aluminium foil, and set aside to rest for 15 minutes.

Slice the steak thinly and arrange it on a warm serving platter

Spread the cooked mushrooms on top and garnish with some sprigs of thyme.