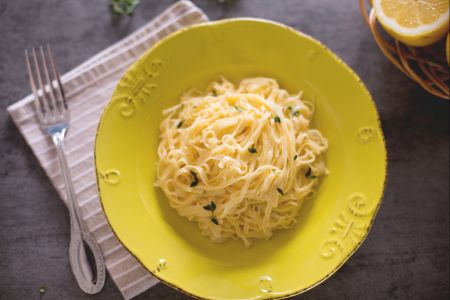 In a small pan or pot, melt the butter over low heat with the lemon zest. Whisk in the lemon juice, season with salt and pepper, and remove from the heat.

Bring a large pot of salted water to boil and cook the pasta. When the pasta is cooked (fresh pasta cooks quickly), reserve about 1/2 cup cooking water.

Drain the pasta in a colander, but don't drain it completely dry. Transfer to a serving bowl. Pour the lemon juice mixture over the pasta and add a little of the cooking water if the pasta looks dry.

Toss vigorously to combine. Sprinkle with the grated cheese and continue to toss vigorously the cheese should melt as it mixes with the hot pasta and combine with the liquid to create a silky sauce.

Sprinkle with additional cooking water if the dish looks dry. Top with a little additional pepper, garnish with lemon slices, and serve immediately.