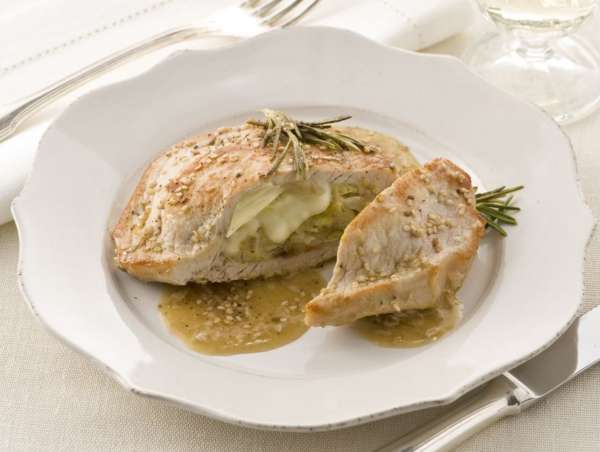 | | |
| --- | --- |
| | |
In a pan, sauté the onion and anchovies in a small amount of oil.

Add the cabbage or sauerkraut, salt (If you are using the prepared sauerkraut it probably doesn't need any additional salt), and about 1/2 cup (250 millimeters) wine and cook, covered, over medium heat until soft, 15 to 20 minutes for the fresh cabbage and less for the sauerkraut.

Stuff each pork loin slice with a piece of the scamorza and a spoonful of the cabbage or sauerkraut mixture.

Close up the pockets with toothpicks.

Dredge each pork slice in the flour and brown in a small amount of oil in a large pan.

Sprinkle with the sesame seeds.

Turn the pork once and, when both sides are browned, add the remaining 1/2 cup (100 milliliters) wine, salt lightly, and season with pepper and a sprinkling of rosemary.

Cook, covered, over medium-low heat until most of the liquid has evaporated and the meat is cooked through, 7 to 8 minutes. Serve immediately.